I know there is a capacity to investigate and Dream for updates on Bathroom Remodels, where, as I have invested, most my life remodeling Bathrooms, Kitchens, total home restoration.
One of my challenges, started in 1998 while working in restoring a very old house in Salt Lake City, on B Street, which construction of this home, started in the year 1905, made of a brick foundation, a concrete terrace, 4 stories including the basement and attic conversion to a playroom.
I began in upstairs double bath and shower separated rooms with adjoining toilet water closet room. I had to demo all existing plumbing and open all walls to reframe structure, require all new plumbing, walls, etc. install two new vanities with sink and one jetted tub and standing shower with glass door.
As you will see 1″ inch porcelain tile on floor and ceramic 3″ + 5″ brick stack wall veneer with accent sizzle strip and linen cabinet.
Then started kitchen addition, because there was not enough room for a decent size kitchen. another phase in the process of restoring this antique house, which I will also displace a kitchen picture.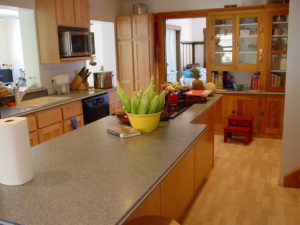 The renovation is a tedious process, renewing plumbing, electrical, framing is a nightmare, being of old methods and dimensions. Usually, framing has to be updated to uniform building codes, in other words, strengthen to earthquake specifications.
I am interested in demonstrating step by step instructions on how to rebuild your shower or tub enclosures, from interior plumbing to placing valve or setting rough plumbing drains and running water lines to faucets.